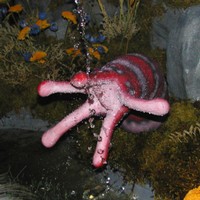 Public Anemone
In 2003 I joined the new Robotic Life Group at the Media Lab (now called the Personal Robots Group) as a founding member and the lead electrical engineer. The new group needed a warm-up project so we could all get to know each other and learn to work together. Meet Public Anemone.
This project established what would be recurring themes in the Robotic Life Group's work. Dan Stiehl's slightly creepy creature aesthetic is clearly in evidence, as is Jon McBean's inability to build a robot that couldn't kill you. (Those are some seriously high-powered motors in the base of the arm!)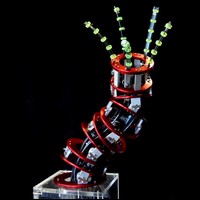 This is actually Public Anemone version 2, which is the version we displayed in a crazy interactive robotic terrarium at SIGGRAPH in 2001 in San Antonio. (We wrote an IROS conference paper about it.)
The previous version was a rapid prototype built using laser-cut acrylic and powered using modified off-the-shelf motor controllers. The final version, pictured here, was beautifully machined and was driven by an early 8-channel prototype of my Medusa motor controller. I also talk a bit about Public Anemone in my Masters Thesis.